Framed Infinity Flat Rooflight
The infinity framed Rooflights help increase the flow of natural light into indoor spaces, whilst being low-maintenance with excellent thermal insulation and light transmission. The glass that is used in our rooflights is an energy efficient glass which is designed to prevent heat escaping out through your rooflight to the cold outdoors.
KEY FEATURES
U-Value 1.2 w/m2 – Double Glazed
U-Value 0.7 w/m2 – Triple Glazed
Glazed into an Anthracite Grey (RAL 7016) aluminium frame with thermal break
Available in both standard and bespoke sizes
Quick and easy installation
Manufactured with a decorative border as standard
Available in a range of glass finishes
Toughened Safety Glass as standard
GLASS SPECIFICATION
Our Double Glazed glass have a centre pane U-value of 1.2 and our Triple Glazed glass have a U-value of 0.7 which is 30% better than rooflights with standard double glazing and enhanced sound reduction.
All units are Argon gas filled and have Thermal Super Spacer technology as standard.
The outer panel can be supplied in either clear, solar or privacy glass to suit your needs.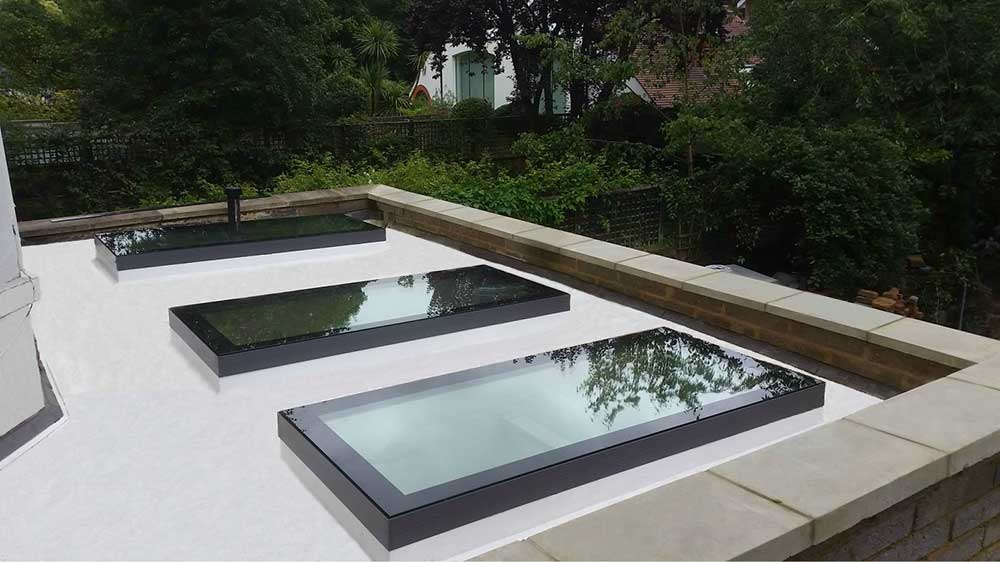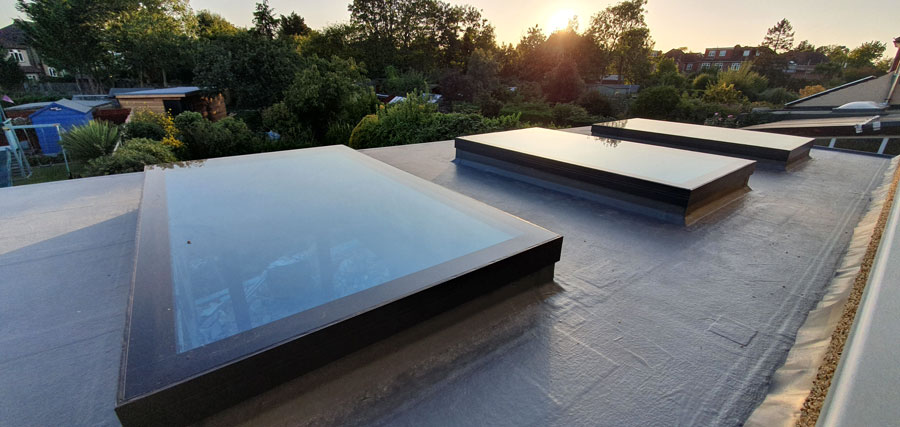 Aluminium Frame
The Aluminium Frame features a thermal break in the frame which creates an insulated barrier and minimises the transfer of heat and cold through the frame reducing condensation and improving energy efficiency.
Glazing Options – Glass
Ambi Clear (Low E) - Double Glazed
Ambi Clear (Solar) - Double Glazed
Ambi Neutral (Solar) - Double Glazed
Ambi Satin Privacy - Double Glazed

--------------

Ambi Clear (Low E) - Triple Glazed
Ambi Clear (Solar) - Triple Glazed
Ambi Neutral (Solar) - Triple Glazed
Ambi Satin Privacy - Triple Glazed
U-Value: A measure of air-to-air heat transmission (loss or gain) due to thermal conductance, and the difference in indoor and outdoor temperatures. As the U-Value decreases, so does the amount of heat that is transferred through the glazing material. The lower the U-Value, the more restrictive the fenestration product is to heat transfer (Reciprocal of the R-Value). This is a critical function in that it makes it possible to strike an optimum balance between economy and ecology. The lower the U-Value, the more efficient the insulation.
Why Premier Roof Systems?
Premier Roof Systems provide all trade and domestic customers with lower prices on Infinity Glass Rooflights than any other manufacture or supplier.
Our factory has enabled us to increase our productivity and stock level

Dedicated Aluminium Roof Lantern manufacturing team to ensure quick production and quality control

We can match any other price you find online*
*The product must be like for like and a written proof is required.
Infinity Flat Rooflight Shop
You can now order set-sized Infinity Flat Rooflights from our online shop!
Request A FREE Quote!
To request your free, no obligation quote: