8 OUT OF 10 HOMEOWNERS PREFER ULTRAROOF VS LEADING COMPETITORS*
The lightest tiled conservatory roof available, Ultraroof is both easy and fast to fit with an unrivalled quality finish.
Ultraroof is a cost effective, simple to fit pre-packaged tiled conservatory roof kit that is perfect for the replacement of tired conservatory roofs or new-build extensions.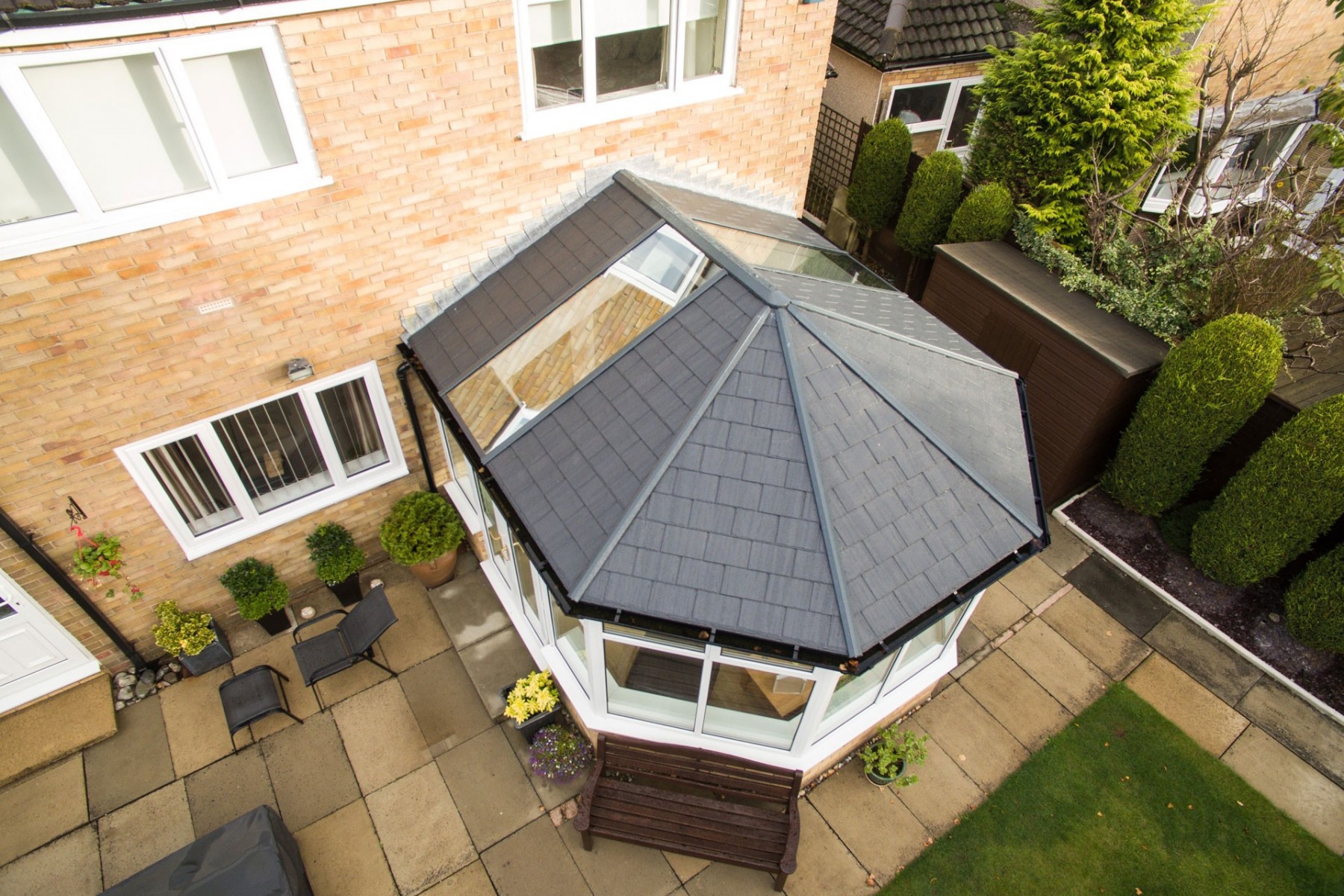 PREFERRED
8 out of 10 homeowners prefer Ultraroof*:
Full length glass panels
No tie bar – ever
Internal pelmet and external soffit for lighting
Highly authentic tile finish
Slimline hips and ridge cappings
*Based on overall looks – Survey conducted Feb 2019 with 64 UK homeowners.
LIGHTEST
The lightest tiled roof on the market:
Weighs only 38kg/m² lighter than any other solid roof
Designed by conservatory specialists Ultraframe, to replace existing conservatory roofs
Lightweight panels are cut to size and easy to manoeuvre
WARMEST
Unrivalled thermal performance:
U-Value of 0.17 as standard
Option to reduce to 0.13 if required
Complete warm roof system with no cold bridging
Fully insulated 380mm structural beam
FIRE TESTED
Independently and fully fire tested:
The complete, assembled Ultraroof structure was fire tested in 2017 by Warringtonfire
Ultraroof is fire rated as B-roof according to EN 13501-5:2016
Ultraroof is fire rated as AC according to BS476-3:2004
FASTEST
Faster to fit than any other solid roof:
Supplied in panels of 12 tiles, pre-cut to size. No cutting required on site
Integrated full height glass panels for faster glazing
Key components labelled in sequence for an easy fit
3 simple structural components: beams, SIPs ridge
STRONGEST
No tie-bar ever:
Superior strength for larger designs
4M spans for bi-folds without extra support
Can be used for builds up to 6.7m by 5m (Georgian)
Nasa satellite data used to precision engineer every roof for wind and snow loads
What Makes Up an Ultraroof?
1   Authentic looking replica tiles
2   Fully insulated ridge
3   Slimline aluminium hip and ridge cappings
4   Fully insulated box beam eliminates the risk of condensation
5   Full length glazing panels
6   Structural insulation panels
7   Breathable waterproof membrane
8   The beam is strong enough to support large spans of bi-folds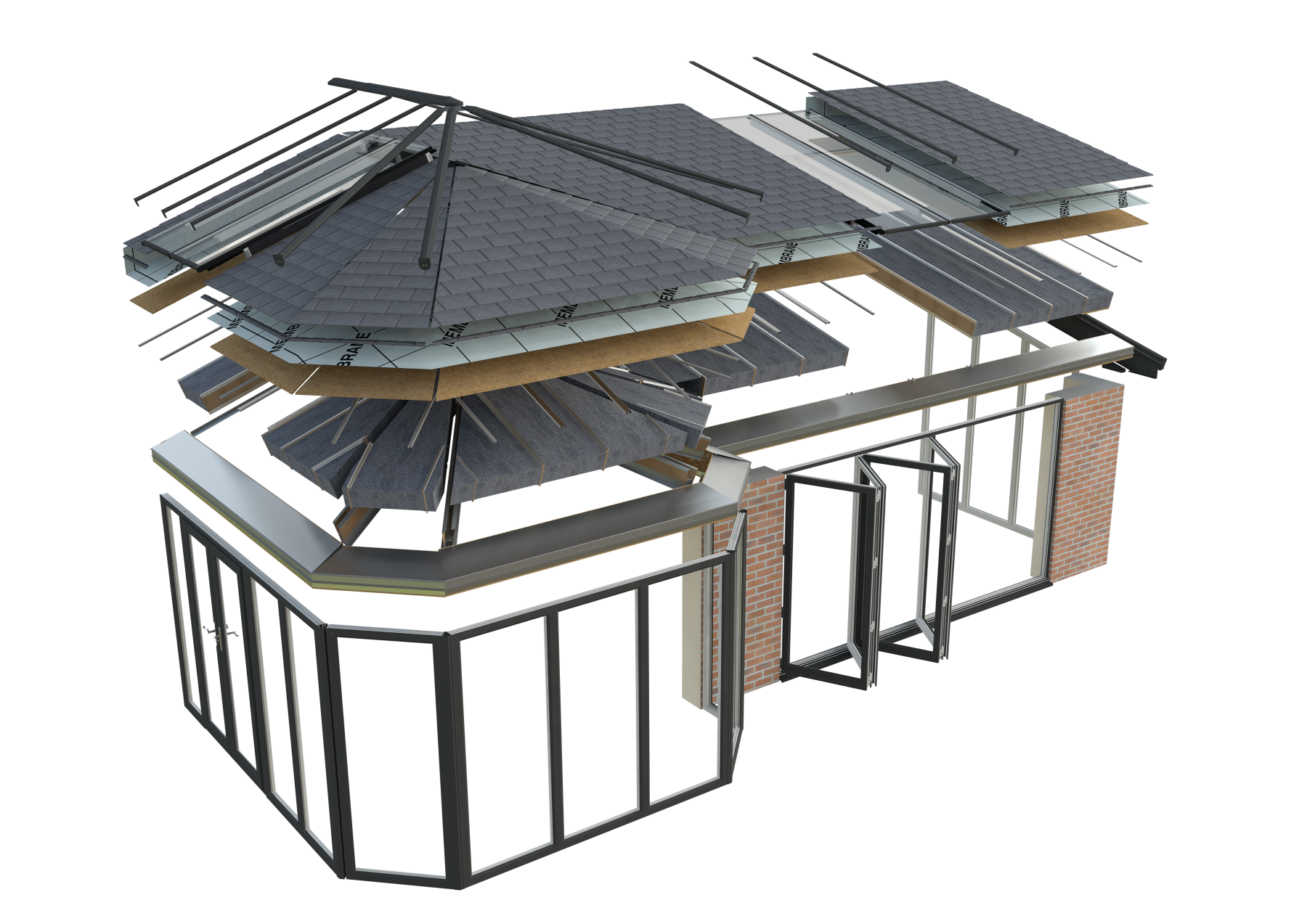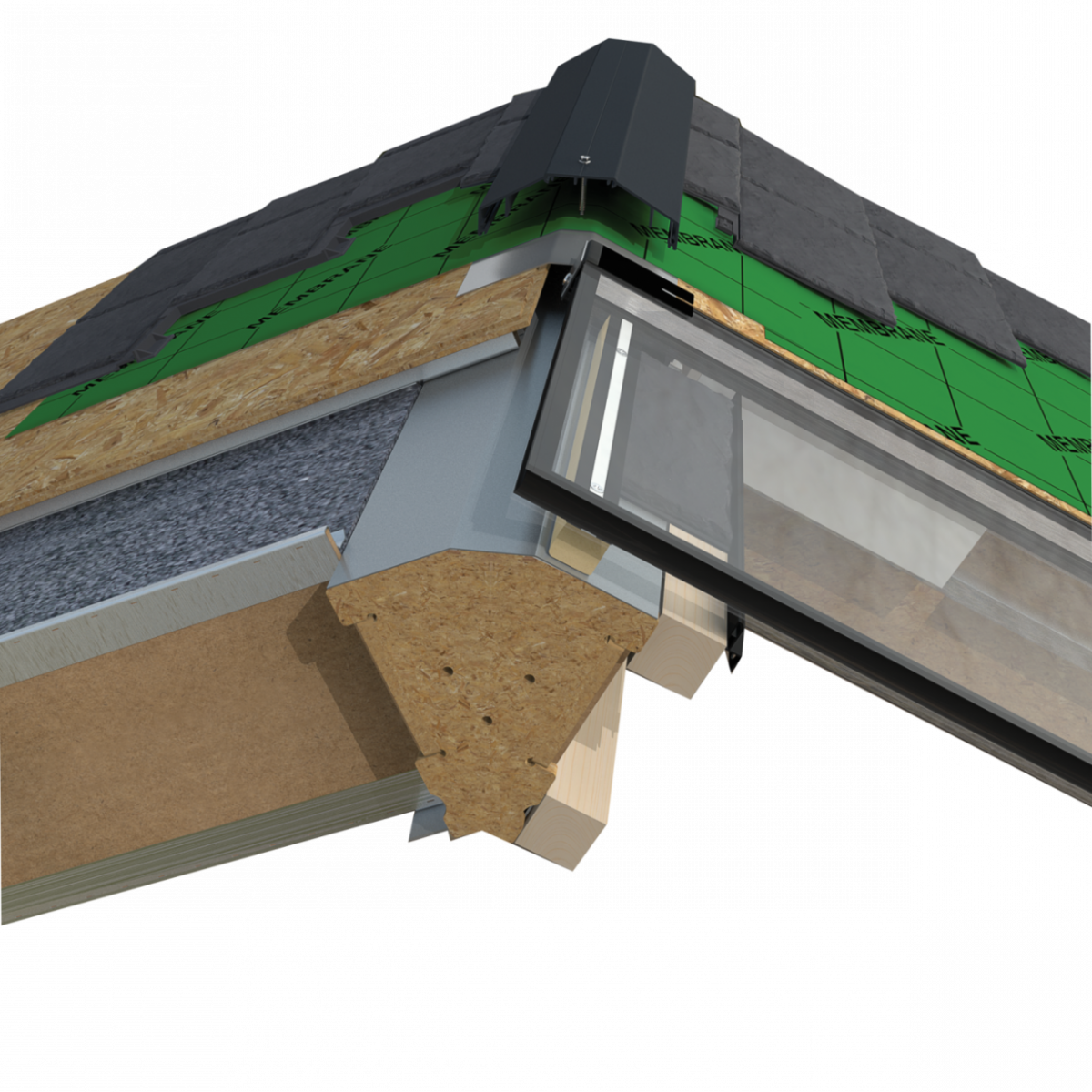 New Ultraroof Ridge Assembly
1    New Preset Insulated Ridge
2   'I' Beam Edged Panels – For Increased Projections
3    New Simplified Glazing Bar Attachment – For Faster Glazing
4    External Panel Clips – No Battening Needed
Specification Overview
1     Powder coated tile starter support
2    UltraTile in 3 colours
3    High performance breathable water proofing under layer
4    Ultrapanel, 0.17W/m2 ºC
5    Integrated Marley Classic gutter system
6    OSB/3 Boards -Suitable for load bearing applications in humid conditions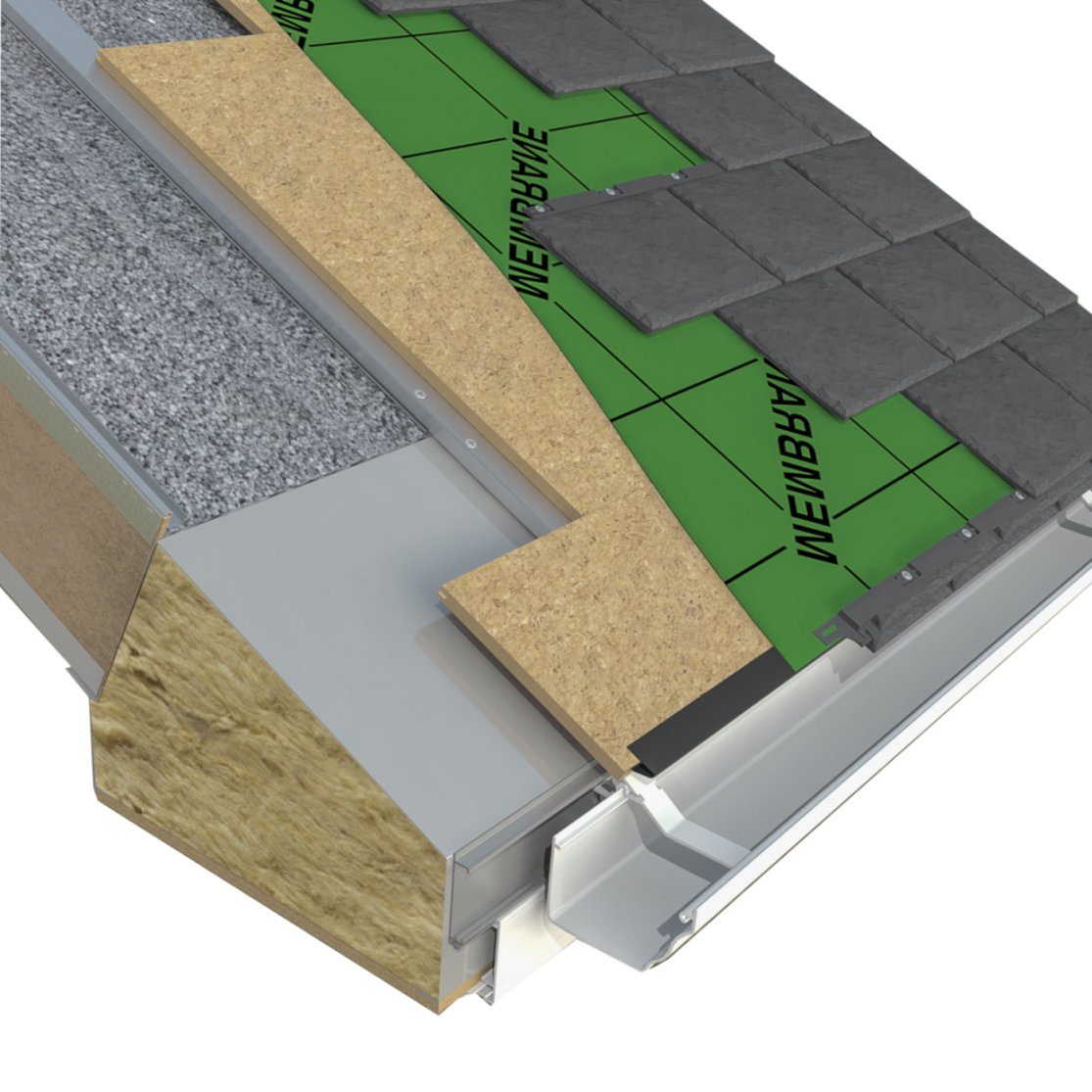 WANT TO GIVE ULTRAROOF A TRY?
If you would like to start selling Ultraroof, please fill in the short form below and one of the Ultraframe team will be in touch shortly.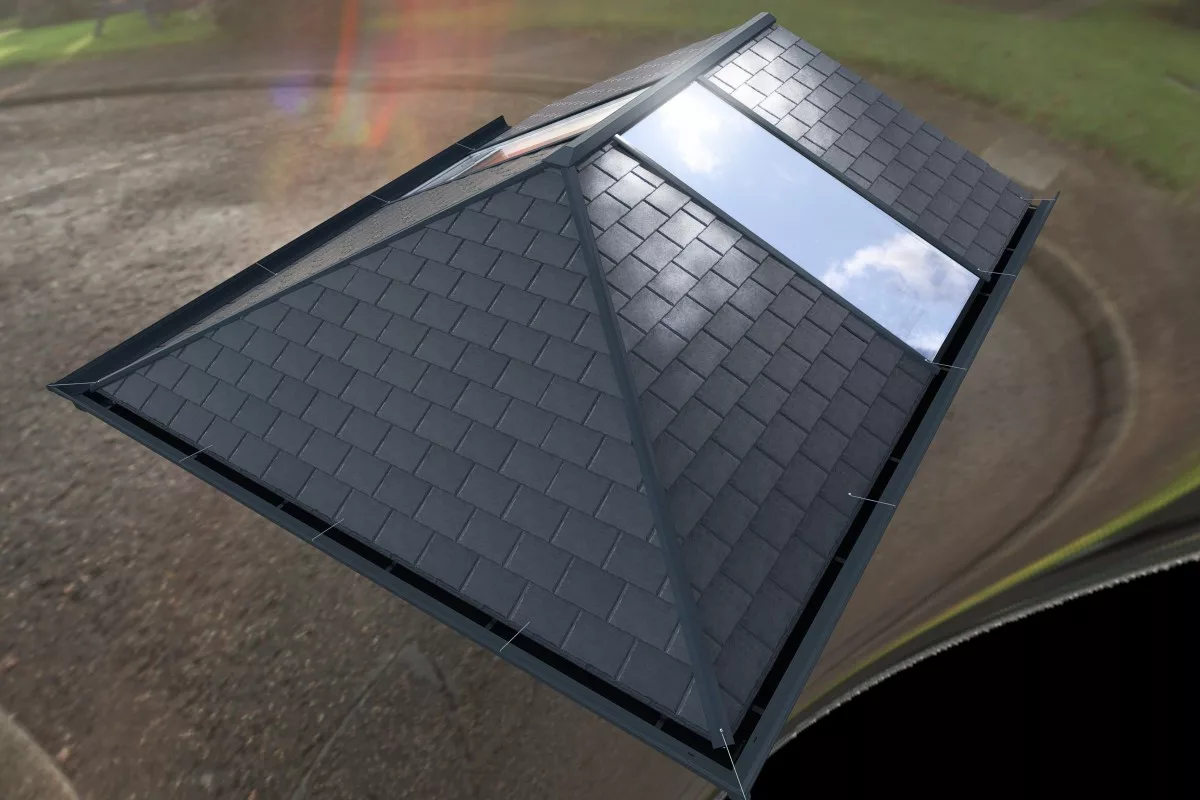 KEY PRODUCT INFORMATION
A simple lightweight tiled conservatory roof, perfect for updating old conservatory roofs in as little as one day. Extremely lightweight, strong and easy to install, the Ultraroof is faster and simpler than any other solid conservatory roof on the market.
Rapid installation process
Comes with Ultratile engineered copolymer interlocking slate tile- in 3 colours
Incorporate large rectangular glass panels – massive saving over roof windows
Off site manufactured, three simple system components
Features small external soffit and internal pelmet
Full third party accreditation – LABSS System Approval – JHAI System Approval
Weight only 38Kg/m² – less than others, not much more than a glass roof

Compatible with the curved Cornice for extra Style

All external items included – eg. gutter fascia
TILE COLOUR OPTIONS
Our range of tile colours, including Carbon Grey, Harvest Brown, Terra Brick, enables you to meet a wider spectrum of customer tastes. Further to this, it also enables you to tailor the Ultraroof to complement a wider range of property styles and architecture types: all while offering that definitive tiled conservatory roof look.
(Colours here are a guide, for true colours please refer to a product sample)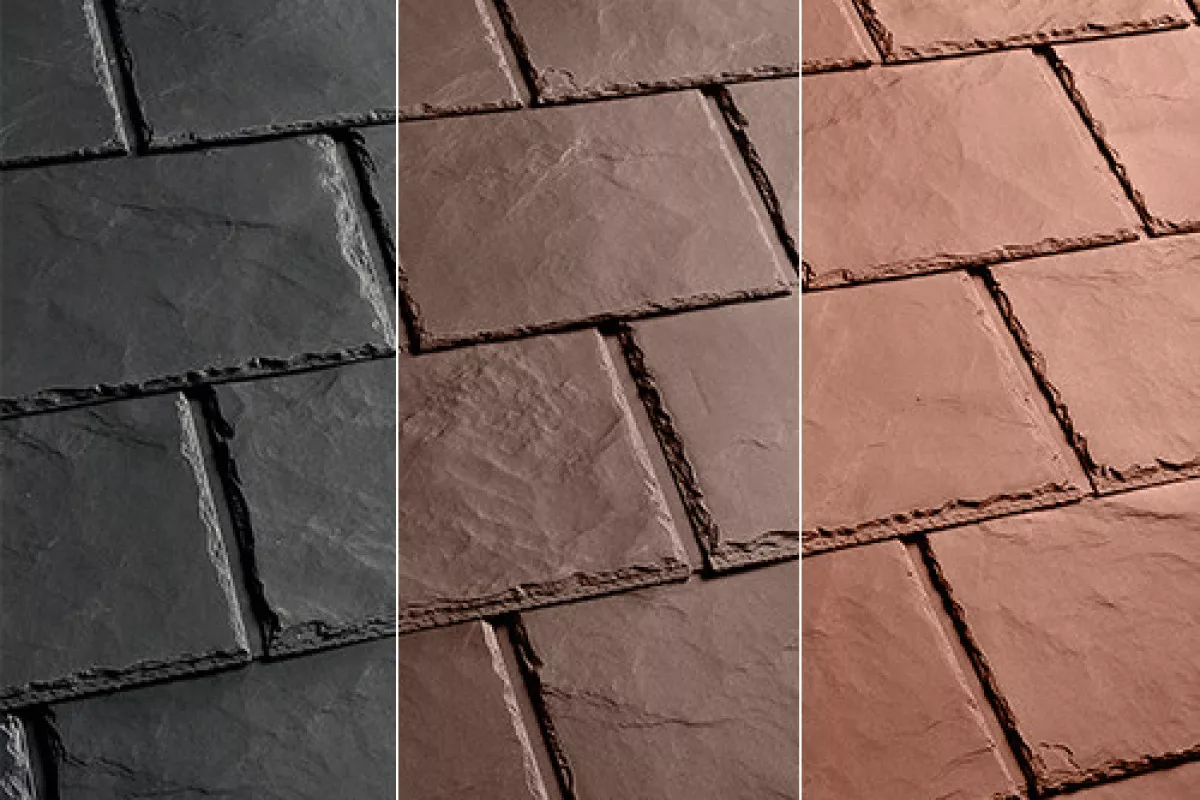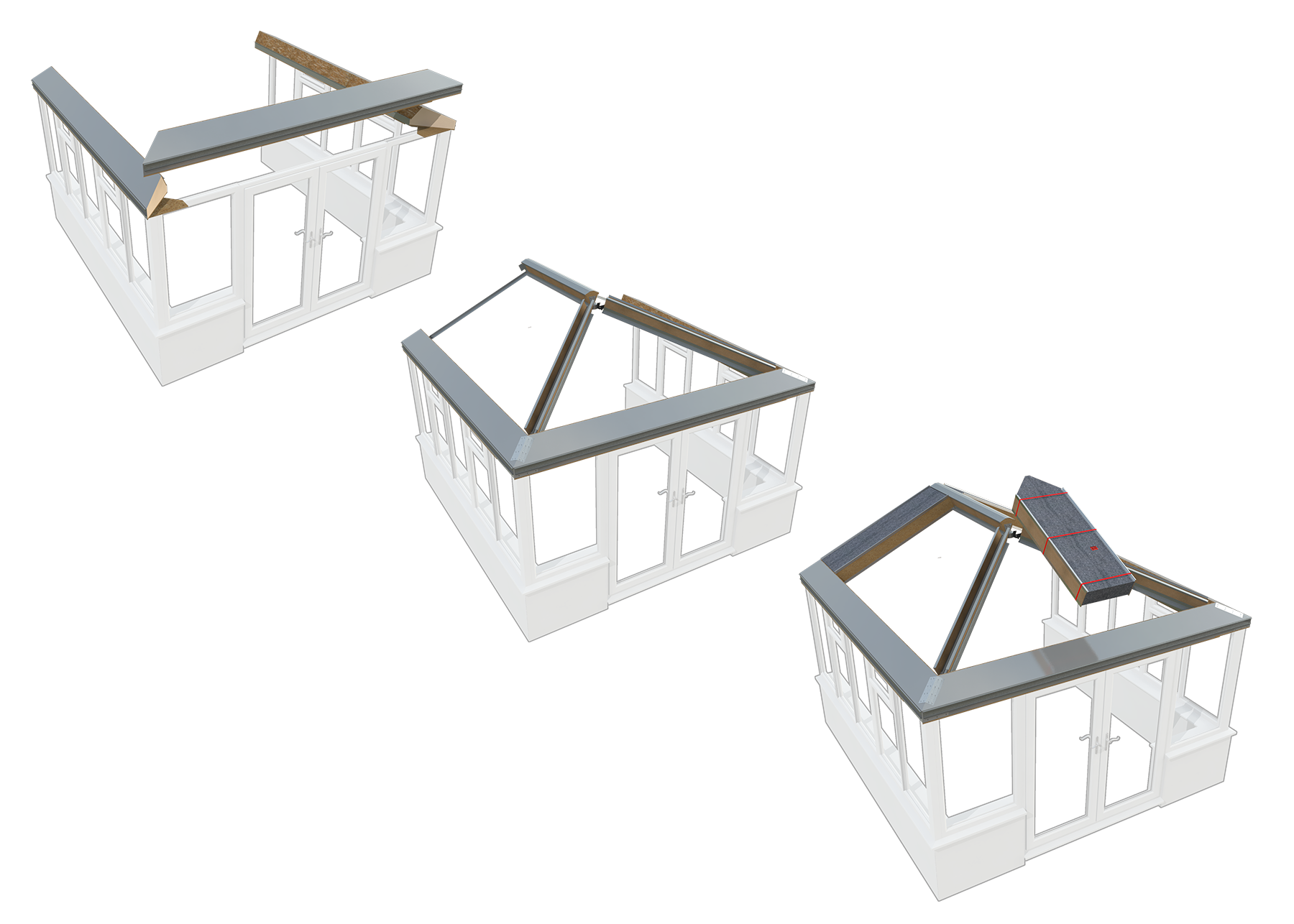 As Easy as 1 2 3
Ultraroof is a tiled conservatory roof, perfect for the speedy replacement of tired conservatory roofs. Ultraroof is classed as a 'warm roof' and gives a vaulted/loft type ceiling. There are three major elements to Ultraroof:
1   Insulated Beams – A patented box eaves beam, filled with mineral wool cavity insulation – that forms the soffit structure – approx 380mm front to back depth.
2   Aluminium Framework – A hidden structural aluminium framework for hips, ridge, and starter bars.
3   Structural Roof Panels – Mechanically fixed Structural Insulated Roof Panels are attached to the box eaves and structural framework.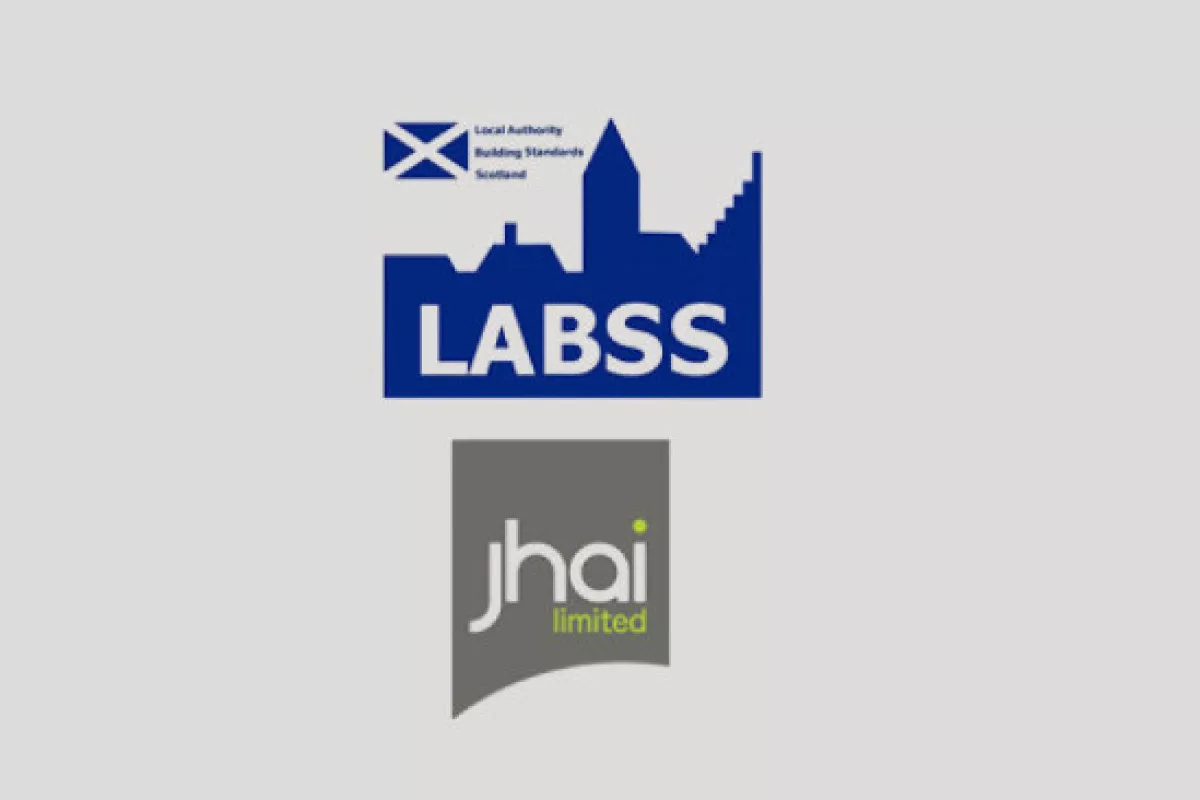 GLAZING
Full rectangular glass panels can be integrated to maintain light into any adjacent room. These panels can also be solar controlled, something not possible with a regular rooflight.
STRENGTH
The Ultraroof tiled conservatory has superior strength for larger designs and NEVER needs a tie bar. Each roof is precision engineered to wind and snow load requirements of the postcode of the installation.
CERTIFICATION
The Ultraroof tiled roof is LABSS and JHAI certified. It's also been fully fire tested by Warrington fire so you can be assured that Ultraroof is the right solid conservatory roof for your project.
ULTRA INSTALLER SCHEME
If you are an advocate of Ultraframe's quality products and are passionate about customer service then we'd love for you to become an Approved Ultra Installer.