A SUPER STRONG HIDDEN GOALPOST SOLUTION FOR BI-FOLD AND SLIDING DOORS
Ultraspan technology, hidden inside the Ultrasky roof eaves beam absorbs the roof's deflection to support door spans up to 6.5m for a minimalist grand designs look.
The goalpost is designed to be encased within corner columns or posts and hidden completely in the internal insulated pelmet within the Ultrasky roof.
Available in 3 optional cladding styles: uPVC cladding in White, Grey or bespoke colours, super insulated columns or brick columns.
Available in a 2 legged or 3 legged design so large bi-fold or sliding doors can be used on multiple elevations for a minimalist design.
The integrated goalpost is designed to work with bottom running bi-folding doors to a maximum span of up to 6.5m.
A 30mm expansion gap deflects the weight of the roof, so the roof load will never impact on the head of the bi-fold door.
Every goalpost is designed by specialist structural engineers for peace of mind.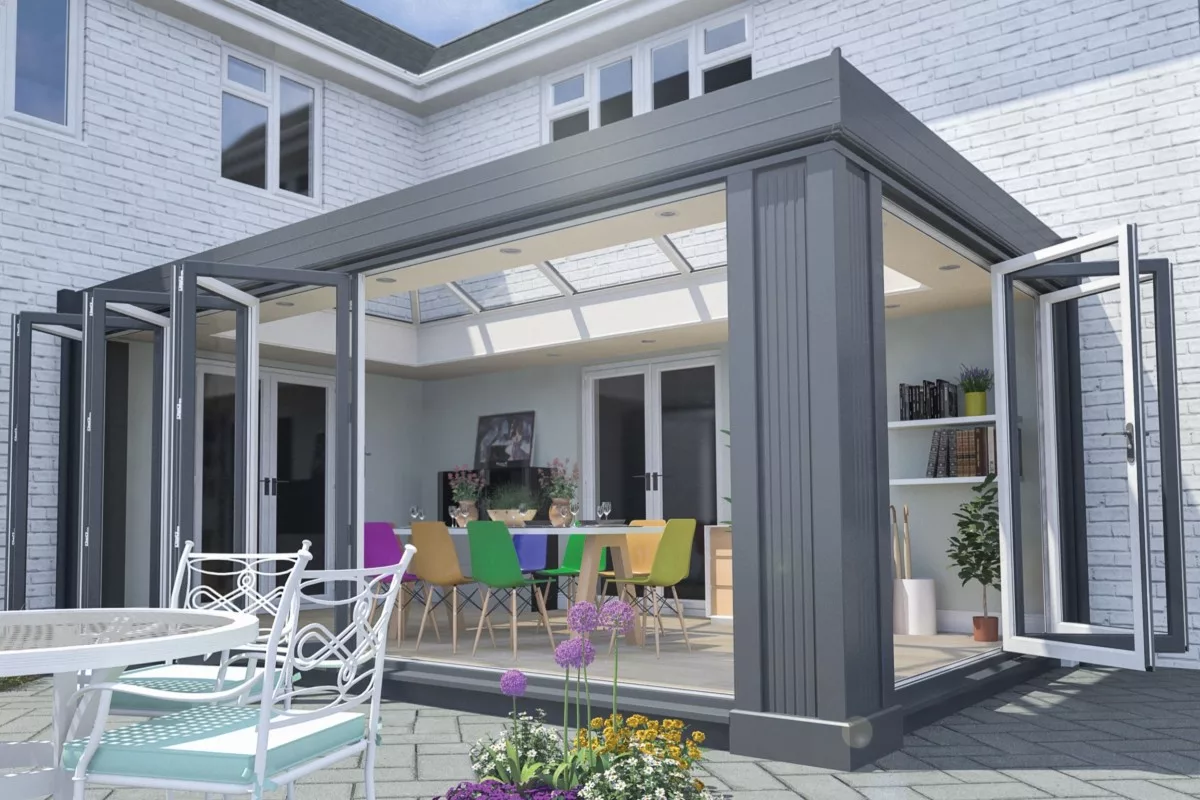 WHY DO I NEED AN INTEGRATED GOALPOST?
If you're using and Ultrasky roof with bi-folds and a span over 3.2m you will need a structural goalpost to make the design work. Sometimes structural goalposts can be bulky and unsightly, so, to maintain the designer look with uninterrupted sightlines you'll need to order an Ultraspan goalpost. Ultraspan is completely hidden inside the Ultrasky roof, can span up to 6.5m and is available in a variety of finishes to seamlessly match your design.
SPECIFICATION
To be used in conjunction with Ultrasky roofing systems only.
Provides clear span up to 6.5m* and lateral stability to an open sided structure. To provide lateral restraint the correct foundation detail is required.
Works in conjunction with bottom running bi-fold doors, NOT top hung.
The corner post has 3 optional claddings.
3 Options for Hiding the Structural Goalpost
The ends of the beam are supported by a 70 x 70mm post*. The external face of the post is in-line with the internal frame line of the roof/windows. This post can be finished in a number of different ways and can sit inline or at the corner:-
1    The post can be run down inside a super-insulated column.
2    Incorporated inside a brick pier (cavity width needs to be greater than 100mm to effectively insulate).
3    Fit to a large 90-degree corner post (externally cladded with uPVC). *100mm x 100mm post used when bi-folds connect on 90-degree corner.