Eurocell Conservatory Roof System
The Eurocell conservatory roof system offers you a unique solution. A top quality conservatory system with many unique features designed to eliminate common problems experienced by both fabricators and installers - at a price point that doesn't penalise you for wanting to fit the best. Designed from the ground up by Eurocell's experienced product development team, the philosophy behind this system has come from listening to installers and fabricators and finding out what they want from their ideal roof system. Speed and ease of installation and fabrication, coupled with design flexibility were key objectives during the design of the system. This has led to the development of one of the most advanced and user friendly systems on the market, which has met and surpassed the rigorous criteria required for BBA accreditation. The strengths of the Eurocell conservatory roof system are backed by Eurocell's manufacturing expertise, efficient infrastructure and support network. Ongoing capital investment ensures that this system will continue to be a market leader in conservatory design, and help keep you at the forefront of conservatory technology.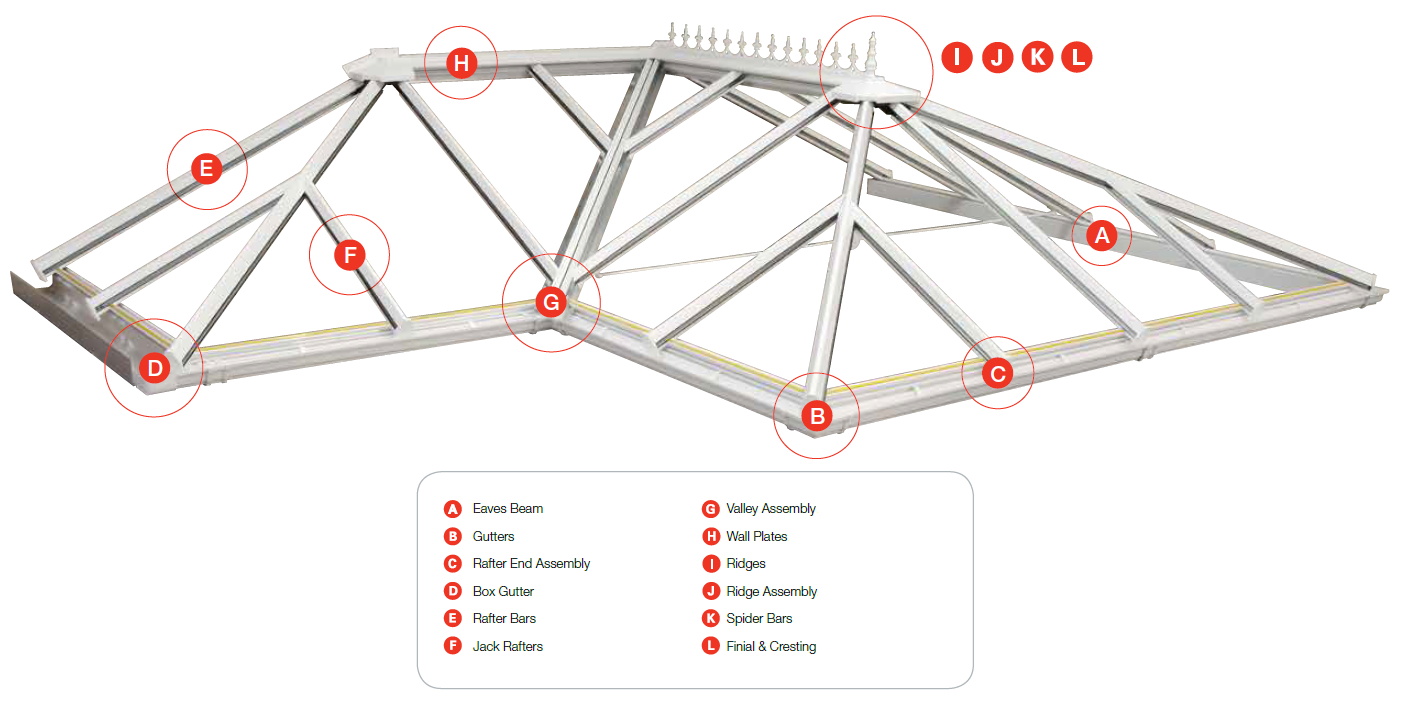 Benefits
Overview
In order to illustrate the main features and benefits of the Eurocell conservatory roof system we use this Edwardian P-shaped conservatory with box gutter and hip to take you through the various elements that combine to make this system the ideal choice for today's market.
Colour options
The Eurocell conservatory roof system is available in a range of different colour options including White, Rosewood, Golden Oak, Rosewood on White and Golden Oak on White. When required the Eurocell conservatory roof system can be specified with a complete range of fully foiled components. This includes foil finishes to the external ridge top capping, ridge ends, half ridge capping and valley capping; providing a unique and continuous finish. Aluminium foiled glazing bar top caps are also available.
Colour fast
Specially formulated resins and stabilizers ensure that our profile will not discolour over time, ensuring hassle free installations and peace of mind.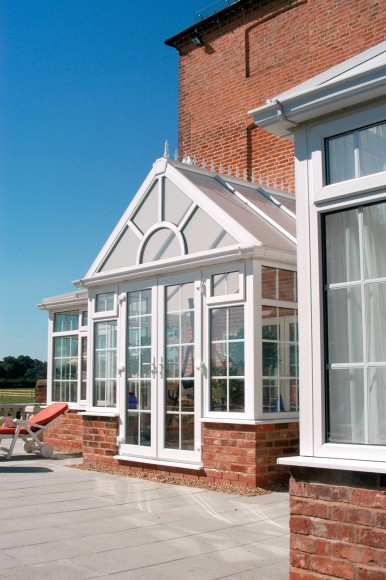 Perfectly colour-matched
Eurocell mixes its own PVC-U compound which is used across our entire range of products, so whichever finish and colour options you choose you can be assured that if you also install either Eurocell windows, doors or roofline products, they will match perfectly.
Glazing options
The Eurocell conservatory roof system is designed to accommodate a wide range of different glazing. 25mm or 32mm polycarbonate and 24mm sealed glass units can all be specified in various finishes (see page 24 for glazing information and 32mm triple glazed glass).
Designed to last
Designed and manufactured to stand the test of time, the Eurocell conservatory roof system's BBA accreditation guarantees a life expectancy of at least 25 years for White and foiled finishes for pitches as low as 2.5˚ and as high as 45˚.
Ten-year guarantee
The Eurocell conservatory roof system is guaranteed for ten years. That means you can give your customers the assurance of a robust, well-designed, precision-made product that's built to last – manufactured by the UK's leading PVC-U specialist.
Designed for faster, smoother installation
Designed with speed and ease of installation and fabrication, the Eurocell conservatory roof system is one of the most advanced and user friendly systems on the market.
Conservatory Roof Panels/Sheets
Choosing the right roof panels for any conservatory installation is the most important element to ensuring that a conservatory can be used all year round. There are many things to consider including location, temperature control, maintenance, aesthetics and durability. At Premier Roof Systems we use world-leading manufacturers to ensure that a broad choice of specialist glasses and polycarbonates are available to cater for all tastes. These provide incredible benefits including year round comfort, self cleaning properties, reduction in energy bills and beautiful visual options to suit any property style. These exciting products now enable any conservatory owner to personalise their new or existing conservatory with stunning high performance glass or polycarbonate making it a place of complete comfort and relaxation.
Glass
An all glass conservatory roof is an obvious choice if you want to maximise the sunlight in your conservatory. However, our glass conservatory roof replacement will not only maximise the light transmission into your conservatory, but it is an excellent investment as our product is a thermally energy efficient solution. 
Upgrading to a glass conservatory roof from polycarbonate is a quick and easy way to be able to enjoy your conservatory all year round. Premier Roof Systems' Glass Roof even comes with a 10 year guarantee. For further information download our brochure.
Ambi Blue
Ambi SunShade Blue
Ambi Aqua
Ambi Ultra
Ambi Neutral
Ambi Bronze
Ambi Satin Privacy
Ambi Clear
We offer the above options with U-Value* 2.7, 1.2 or 1.0.
*U-Value: A measure of air-to-air heat transmission (loss or gain) due to thermal conductance, and the difference in indoor and outdoor temperatures. As the U-Value decreases, so does the amount of heat that is transferred through the glazing material. The lower the U-Value, the more restrictive the fenestration product is to heat transfer (Reciprocal of the R-Value). This is a critical function in that it makes it possible to strike an optimum balance between economy and ecology. The lower the U-Value, the more efficient the insulation.
Polycarbonate
Multiwall polycarbonate sheets are the best solution for conservatory roofing for the modern home.  Available in thicknesses from 4mm all the way up to 35mm for maximum insulation values and unrivalled color/tint options, the polycarbonate sheet remains at the forefront of conservatory technology.
Blocks 99% of UV radiation

Superb thermal insulation with "U" values as low as 1.2

Weather and UV resistant

Light weight with excellant impact resistance

Class 1 BS 476/7 Fire rating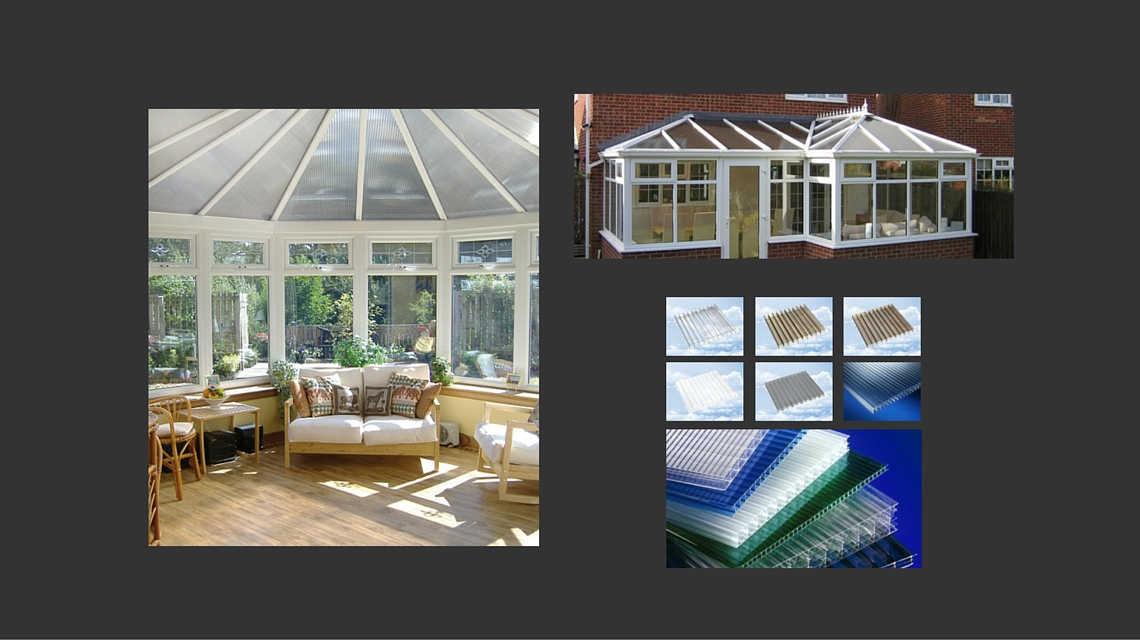 Request A FREE Quote!
To request your free, no obligation quote: