Skypod Pitched Roof Skylights
Nothing transforms a room more than when it's flooded with natural light. It elevates the overall aspect and enhances darkened space to provide a lighter and brighter outlook. Skypod from Eurocell is a versatile and innovative system of skylights for pitched and flat roofs combining contemporary looks with exceptional build quality to inspire your clients with an exciting and new interior experience. Skypod Lantern Roofs are ideal for new build extensions or conservatories and also current builds with flat roofs that are lack in natural light. All Skypod lantern roof systems come with a 10 year guarantee and a reliable assured service. Skypod have size options to transform any space with sizes up to 2.75 x 7.75m* and is available in two-bar or three-bar pitched gable design.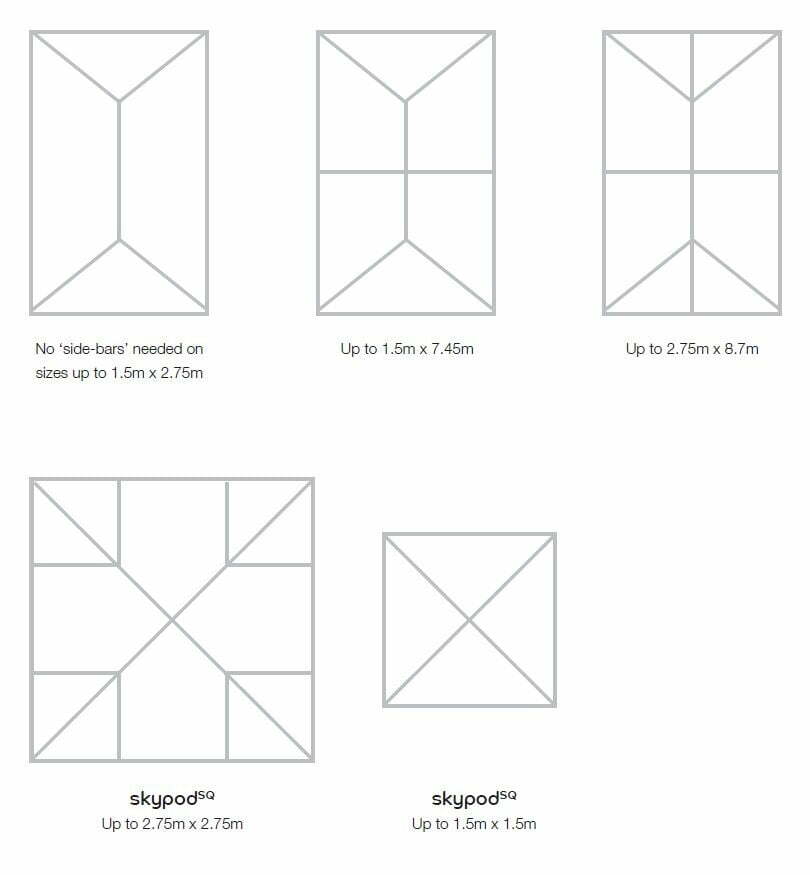 Frame Colours
External: White – Internal: White
External: Anthracite Grey – Internal: White
External: Anthracite Grey – Internal: Anthracite Grey
External: Rosewood – Internal: White
External: Golden Oak – Internal: White
External: Moondust Grey – Internal: White

Glazing Options – Glass
Ambi Blue
Ambi SunShade Blue
Ambi Aqua
Ambi Ultra
Ambi Neutral
Ambi Bronze
Ambi Satin Privacy
Ambi Clear
We offer the above options with U-Value* 1.2 or 1.0.
To find out more  about our glass options and specifications click here.
*U-Value: A measure of air-to-air heat transmission (loss or gain) due to thermal conductance, and the difference in indoor and outdoor temperatures. As the U-Value decreases, so does the amount of heat that is transferred through the glazing material. The lower the U-Value, the more restrictive the fenestration product is to heat transfer (Reciprocal of the R-Value). This is a critical function in that it makes it possible to strike an optimum balance between economy and ecology. The lower the U-Value, the more efficient the insulation.
Benefits
Enlightened thinking


Contemporary architectural skylight design adds height and volume to the smallest of rooms.

Sleek design


Simple clean lines eliminate the need for crestings or finials, while a unique ridge bar cover cap maintains the minimalist appearance.

Outstanding energy efficiency


Provides the homeowner with exceptional energy efficiency – U-value of 1.0 achievable.

Choice of glass options


Available in blue, neutral, bronze or clear self-cleaning temperature controlled glass.

Pitched roof


Fixed 20˚ and 35˚ pitch in three or two-bar Skypod option.

Peace of mind


10-year product guarantee.

Range of sizes


Comprehensive sizes up to 2.75m x 7.75m*
*Except Skypod two-bar design, which can be manufactured up to 1.5m x 6.5m.

When it comes to innovation, we're all Square
Skypod SQ
Skypod SQ is the square skylight that offers perfectly balanced sightlines and, thanks to its simple 4-hip design, higher levels of natural light than conventional designs of the same surface area. Because Skypod SQ can be produced in sizes right down to 0.5m x 0.5m, it means even the smallest flat roofed space in the home can benefit from day long natural light.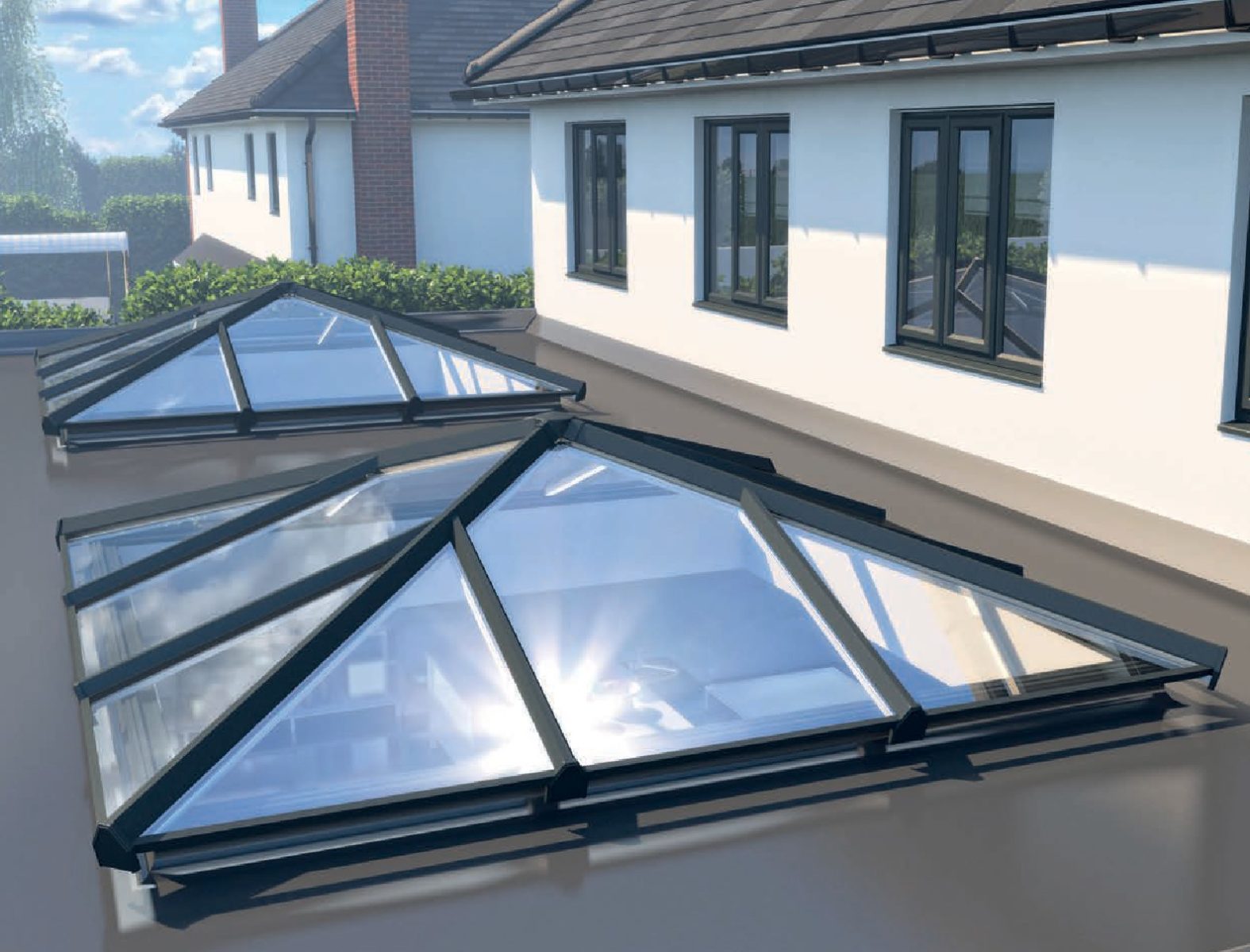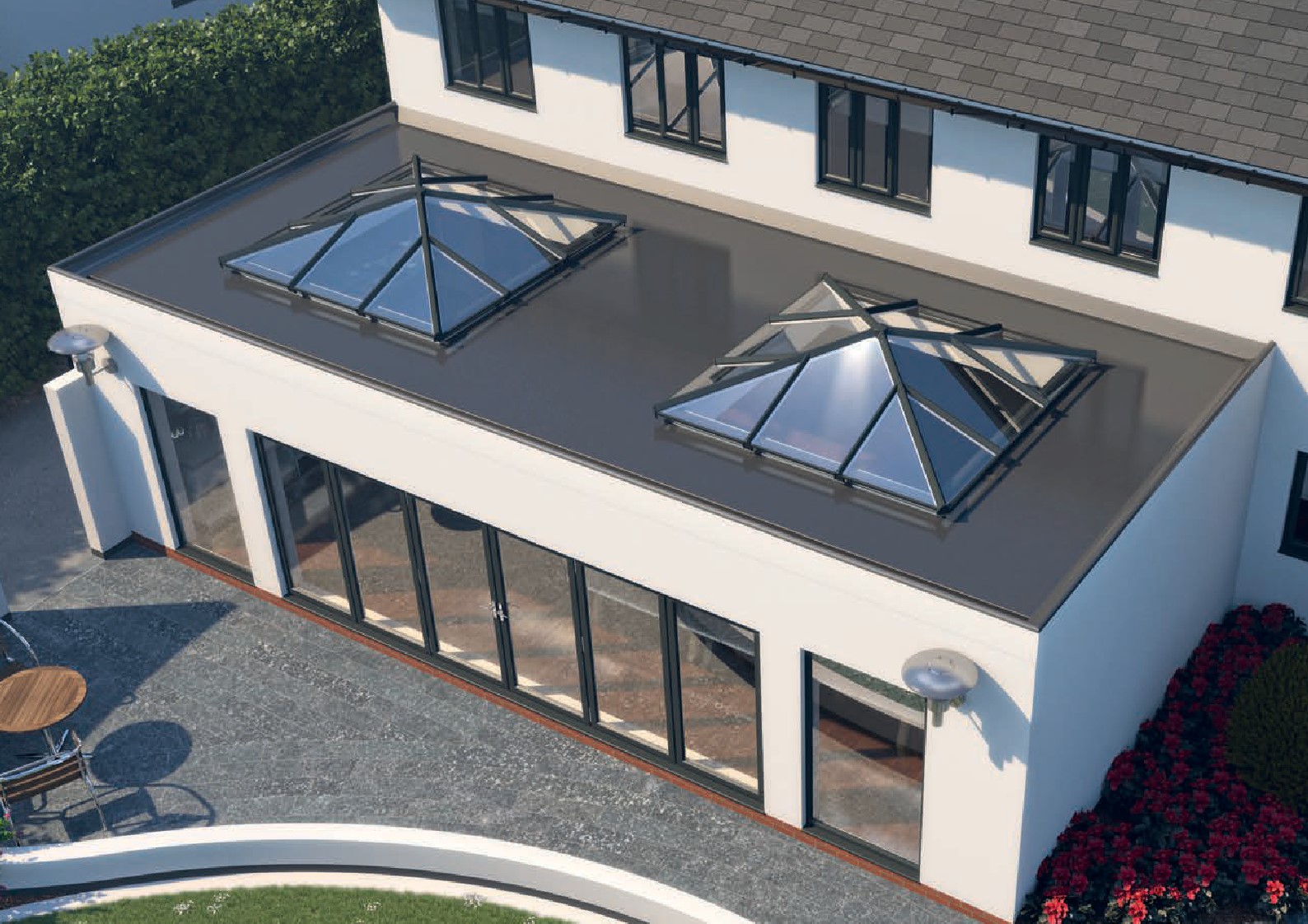 Why Premier Roof Systems?
Premier Roof Systems provide all trade and domestic customers with lower prices on Skypod Roof Lanterns/Skylights than any other manufacture or supplier.
Our move to the new factory has enabled us to increase our productivity and stock level

Dedicated Skypod manufacturing team to ensure quick production and quality control

We can match any other price you find online*
*The product must be like for like and a written proof is required.
Skypod Roof Lantern – Installation Video
Skypod Skylights Shop
You can now order set-sizes Skypod from our online shop!
Request A FREE Quote!
To request your free, no obligation quote: